From music teacher to autism support worker
After three decades in teaching, Lucy Johnstone-McCarthy decided it was time for a change. She took a leap of faith, switched careers and today says it's one of the best moves she's ever made. Here's her story...
There's no looking back for Lucy who has swapped the classroom to train as an autism practitioner at Autism East Midlands and is now providing support for autistic people at the charity's respite service in Worksop.

Lucy's day to day is quite a departure from her former life as a music teacher. No two days are ever the same at Whitegates, which provides support to autistic adults whilst offering their families and carers with the chance to take a break as carers.
Working with individuals, they together plan activities ranging from arts, crafts and baking to enjoying time in the gardens or being out and about in the local area.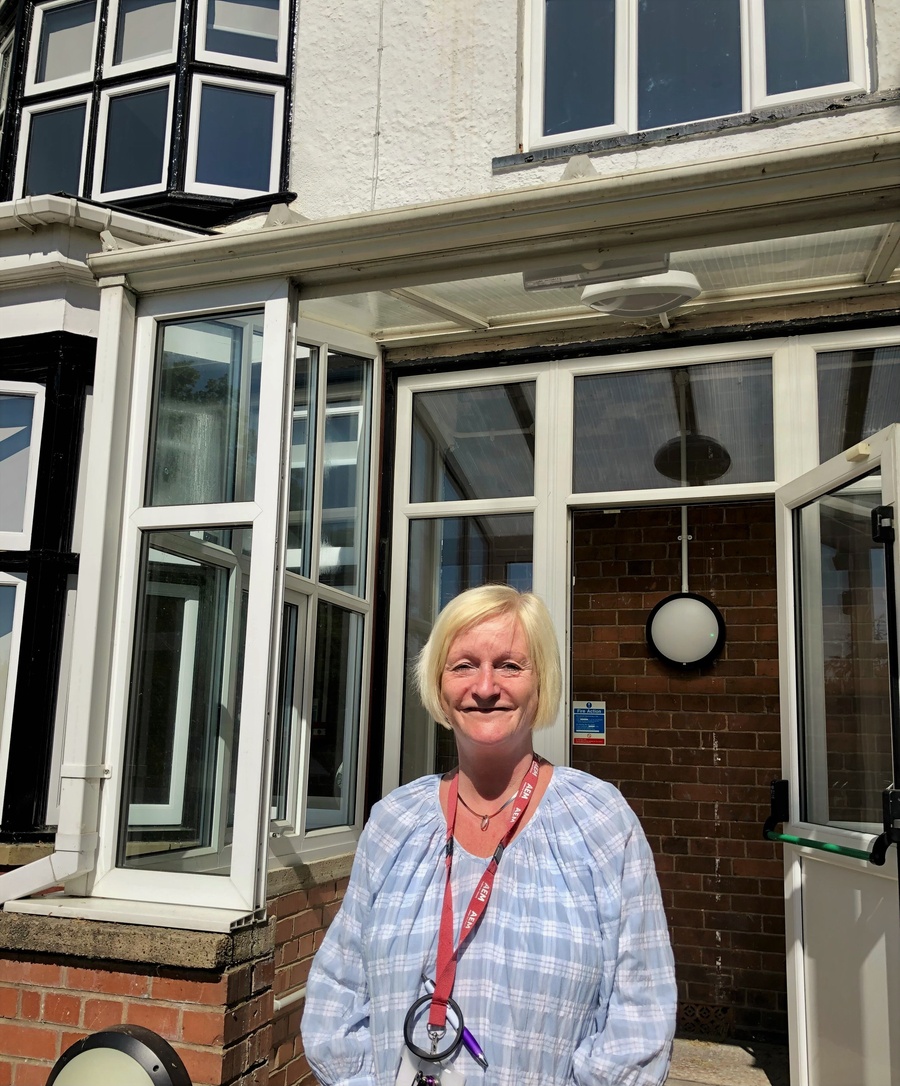 "I had been a music teacher for 30 years when I decided it was time for a change," Lucy explained. "My job as a teacher was incredibly full on and all-consuming. I had an epiphany and realised that I'd been in the classroom in some form since the age of four. I was ready for a change of scene!"

"My first attempt into a different career didn't go too well," she admitted. "I re-trained as a bus driver but soon realised it wasn't for me. I soon realised that I needed to do something where I could make a difference. I knew driving a bus wasn't going to be fulfilling."
By chance she spotted a banner advertising for support workers at Autism East Midlands.
"Right then I had an 'aha' moment. It dawned on me that I had some skills from my teaching days that would put me in good stead. During my career, I had some experience of working with autistic children and so thought 'why not apply?'"
Inspiring
With a passion for caring and a willingness to learn, she completed AEM's comprehensive induction training course and shadowed colleagues at different services before joining the team at Whitegates.
"The training was incredibly positive and inspiring. It filled me with a buzz and knew I'd made the right decision to change career," she added.
Months on, Lucy is enjoying her new role with the specialist support service that opened last summer. What's more, it provides her with a better work-life balance that she hadn't expected.
Explained Lucy: "This move has been a life changer for me. Where my career as a teacher was full on, this has given me a better work-life balance and it's also much more rewarding and provides job satisfaction. It's a completely different way of living."
What's more, Lucy has brought with her something different to Whitegates. As a musician and drummer, she one day brought in her own African drums. Having read that they could be used in meditation, she offered to bring a musical activity for anyone interested. They've proved really popular with some.
Lucy added: "When I first saw the job advert, I was concerned I didn't have any experience but actually I've been able to use some of the skills gained while a teacher and combine it with new skills. Now I'm genuinely making a difference to people's lives and I'm working with some amazing people and that's a really good feeling."
The team at Whitegates is expanding with job opportunities now available at the Worksop service. For details, please read on.