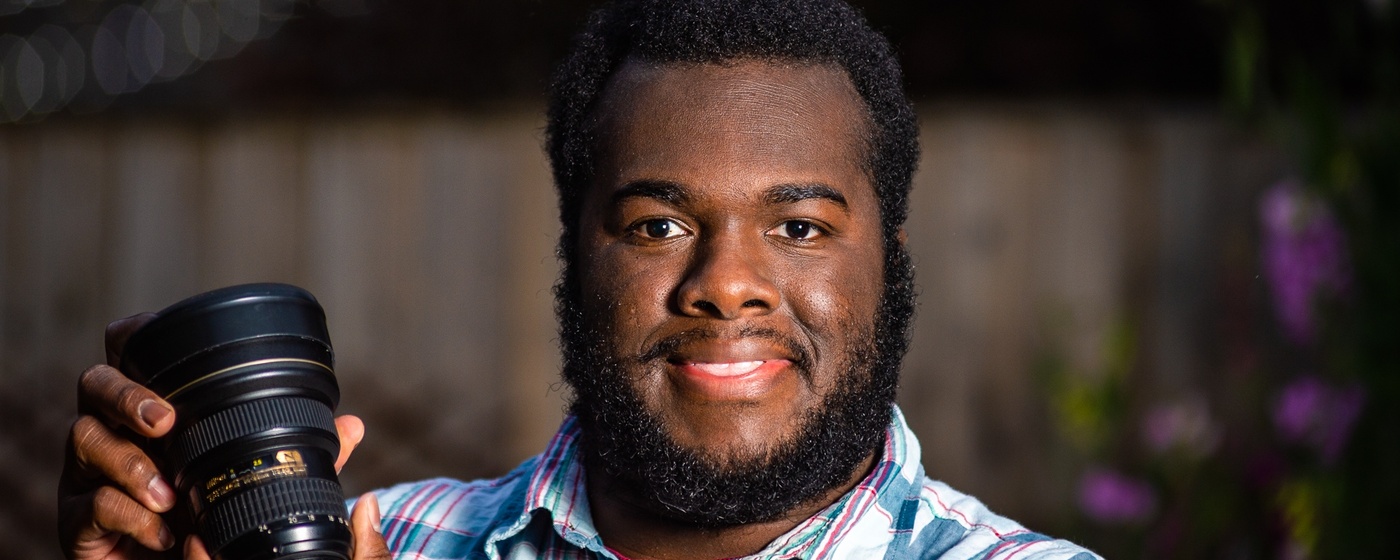 Lamar Francois, autistic photographer from Nottingham, opens up about his experience of lockdown and how he overcame these challenges following the Covid-19 pandemic.
It's been a while since I was last invited to contribute to Autism East Midlands so I'd thought I'd come up with a piece looking back at the past year in terms of life and journey looking over the things I'd learned over the past year as I've adapted to overcome lockdown, as well as offer some thoughts on the outlook ahead for me as restrictions are gradually lifted.

My experience of lockdown
The six months before the Covid-19 pandemic hit was quite frantic, I was working part time as well as building my events photography business, with a number of commissions especially in towards the end of 2019. Set against this, I found the initial lockdown to be a relief and a chance to take a break, having been working since I graduated in 2012 – and be free from needing to live up to external expectations.
As time went on after the initial relaxation of restrictions in July things became challenging financially and emotionally, especially around October in the run up to Christmas and the November lockdowns.
Economically, it become apparent that I would be unable to return to the part time job which I had previously – and with continuing restrictions it had become appararant that I would have few opportunities with commissioned work – although I was able to create some merchandise, including my popular Nottingham Calendar to support AEM which proved a successful venture.
Thankfully, I had some extremely supportive clients who were able to pay me in advance for projects which I will be doing in the coming months – as well as the Princes Trust who had put together an emergency fund which I was able to access having been supported by them in their business development programme in 2017.
Challenges with lockdown
From an autistic point of view, I have quite enjoyed the isolation coming with lockdown especially in public from a sensory point of view with there being limits on people gathering. However, socially it's been tough as I've quite missed being at events where people can meet.
In common with many on the spectrum I do want to enjoy and connect with others – but oftentimes many of the environments which are set up to facilitate this can be difficult to manage from a sensory perspective.
From that perspective, I'm quite fortunate to not live alone and with some very supportive housemates, so I've been able to somewhat stay connected. I've not had much opportunity to meet with family which has been challenging too.
Another challenge is dealing long term with the lack of structure – moving away from a day job in these circumstances has been tough, even though it was always something I'd aimed for with my photography . Being at home with a lot of time and few goals to focus on (which aren't quests in an open world videogame!) had affected my motivation and creative impetus.
To deal with that I eventually spent some time volunteering with Woven St Johns in Bilborough [link- https://wearewoven.church/stjohns] – using my DSLR to film their church services for online livestreaming especially during the most recent lockdown, which got me serving others and learning some different skills with video production.
An outlook on lockdown
For the rest of 2021 I am cautiously optimistic with my work, with the vaccination programme being fairly successful (I'm looking forward to receiving mine in the next couple of weeks) and events starting back slowly, with venues beginning to reopen so I am encouraged that I will be able to resume growing the work I do.
This year has made it apparent how fortunate I am to be able to pursue a career as a photographer with the difficultly of the past year. I've had to adapt to the circumstances and take on some aspects of work I'd have probably not thought of previously. I've also learned a lot about the importance of self-management and finding ways of keeping myself motivated throughout these challenging times.
One of my projects which I'm working is my 'Stories and Prints' Patreon [http://patreon.com/lamarfrancois] where I am sharing a series of signed collectible A5 prints each month featuring views of Nottingham and beyond, along with a video interview to put it into context where I explain my inspirations and thinking. This will run alongside my online shop [https://www.picturedbylamar.co.uk/shop/], in which I will be looking to refresh in the coming months with some new photographic prints and merchandise on a one-off basis.

Lamar Francois, autistic photographer from Nottingham, opens up about his experience of lockdown and how he overcame these challenges following the Covid-19 pandemic.